Anonymous said: I hope you had a wonderful Valentine's day, and that it was as great as you are. <3
Not really, but thank you.
Question with 1 note
Anonymous said: You killed Matt!
…

…I didn't. Technically. But I know that it's my fault and it could have been avoided.
But what can I do now? Nothing. I see no point in this message.
Question with 1 note
Anonymous said: Have you ever been insulted for wearing those tight pants?
Well.. I got that a lot, actually. Especially when I was a newbie of the underworld and my capabilities weren't discovered yet. But it didn't take long and my alias became well known together with my rather extraordinary look and my ability to get what I want. And then only a few dare to insult me. And they did it only once.
chrisvistangel said: May I ask what is the type of people you dislike the most?
A lot of people get on my nerves and it's hard to specify that particular type. But I really don't enjoy the company of chatterboxes who never shut up. I hate snobs who look down on everyone, I hate children bothering everyone with their nosy questions, I don't get people who once stumble and scream for help desperately instead of standing up and stumbling once again and even better. I hate roughnecks with tons of muscles who beat everyone, but in their heads there is an empty space.
..I would come up with lots of other examples, but I have a feeling that it's enough. Fortunately, noone of these annoys me now.
Question with 1 note
my-inspiration-was-your-downfall said: I know that you most likely have gotten this question before but how do you feel about your scar. Oh and hello! It's nice to be able to talk to one of my favorite characters. *Gives chocolate bars* Boredom sucks so I'll try to help.
Thanks for the chocolate, I appreciate it.
I was really afraid to look at the mirror for the first time after the detonation. Matt tried to calm me down and said that it really did not look that bad, but his face looked worried. However, when I looked at my face, I felt quite relieved at the first moment. I expected something much worse, due to the severity of the explosion. I was glad I was alive and that I could see clearly. The scar surely didn't make me more attractive, but it didn't bother me at all.
However, I decided to wear hoodies outside, it was better not to attract someone's attention.  Later I also realized that the scar represents the desperation of my actions. The fact that I was really ready to sacrifice everything, even my own life. But I also figured that the fight against Kira was much more serious, it was more than just another game with Near. At the time I started to think about the option of cooperation with him.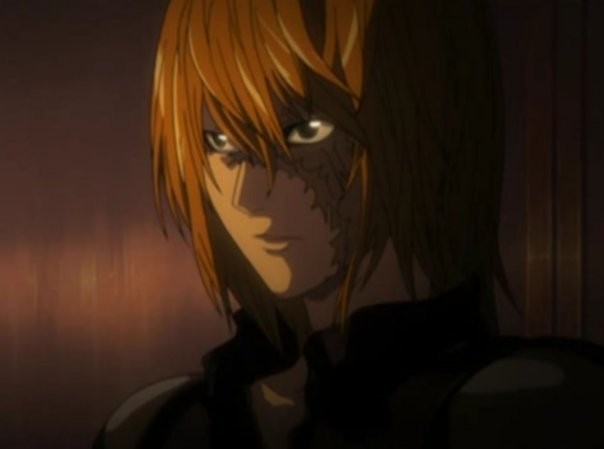 Question with 1 note
henribiggle said: So, how did you and Matt meet? What's the story?
I have a feeling that Matt gave a description of our first meeting earlier, but it doesn't really matter.
Well, when I got to Wammys, I was around ten. Roger explained me everything about this institution, showed me common rooms, library etc. Everything seemed pretty nice, however; in regard of my rather unpleasant experience of my stay in my first orphanage, I wasn't really enthusiastic at all. And then Roger showed me my room and asked me to say hello to my roommate - that was Matt. When I saw him, the word 'geek' immediately crossed my mind. I thought it would be better to share a room with someone like him than with a bunch of stupid bummers like I used to. Nevertheless, I had to make sure that there really weren't other rooms left. Now when I think about it, I admit it was pretty rude. But I wasn't in a good temper back then, and I demonstrated pretty obviously that I'm not a kind of person to mess with. However, as days were passing by, I began to acclimatise and I also showed the better side of me, I suppose. Lately I discovered Matt's shrewdness and rather admirable computer skills and I though to myself that we would be a pretty good team.
Question with 1 note
Anonymous said: Earlier you said something along the lines of 'killing innocent people for any reason is unforgivable.' Do you look at yourself and what you've done in the same light? After all, you've killed plenty of innocent people too.
Actually, I didn't kill so much people. And the few that I knocked off were just filthy dogs involved with underworld. And later I had other mafia members for this dirty job. But that doesn't justify me, not in the least. I've done many bad things and that's why I'm putrifing here in purgatory.
Question with 2 notes
Anonymous said: So apart from him going all crazy, what do you think of Light's original plan, of killing bad people to create a better world?
I find it completely idealistic and naive, but I have to give Kira at least some credit for his unselfish thinking. I believe his intentions were initially good. He got a strong weapon and used it to save the world. Admirable, but ridiculous at the same time. However, everything went according to his plan - and the criminality even decreased, exactly as he intended. But the problem is the human factor, power which have a big influence on human and can drastically change a character, and the relativity of 'bad'. He didn't kill just criminals, but innocent people as well; people who didn't agree with his supremacy.
Kira would have not created a perfect world, but hell on earth full of fear. People would have been afraid to express their opinion in every way. In fact, a totality hidden behind a fake mask of justice.
Question with 2 notes
i-am-that-hero said: WHY Are you so DAMN SEXY?
Well… I don't know, it just comes naturally. But thanks for the compliment.
Question with 2 notes
irishpotofgold-deactivated20120 said: Mello, would you like some of the chocolate I have left over from my holiday baking? I can't finish it all on my own, and I don't wanna waste it.
Of course! Wasting chocolate would be a freaking sin.